Welcome at iPFRR23
June 6-9th

 2023 | Centro Codivilla-Putti




Bologna, Italy
Sala Anfiteatro ("Marchetti")
Centro di ricerca Codivilla-Putti
Via di Barbiano 1/10, 40136 Bologna
Separate entrance at street number 1/13 Via di Barbiano
Download the full guide on pdf: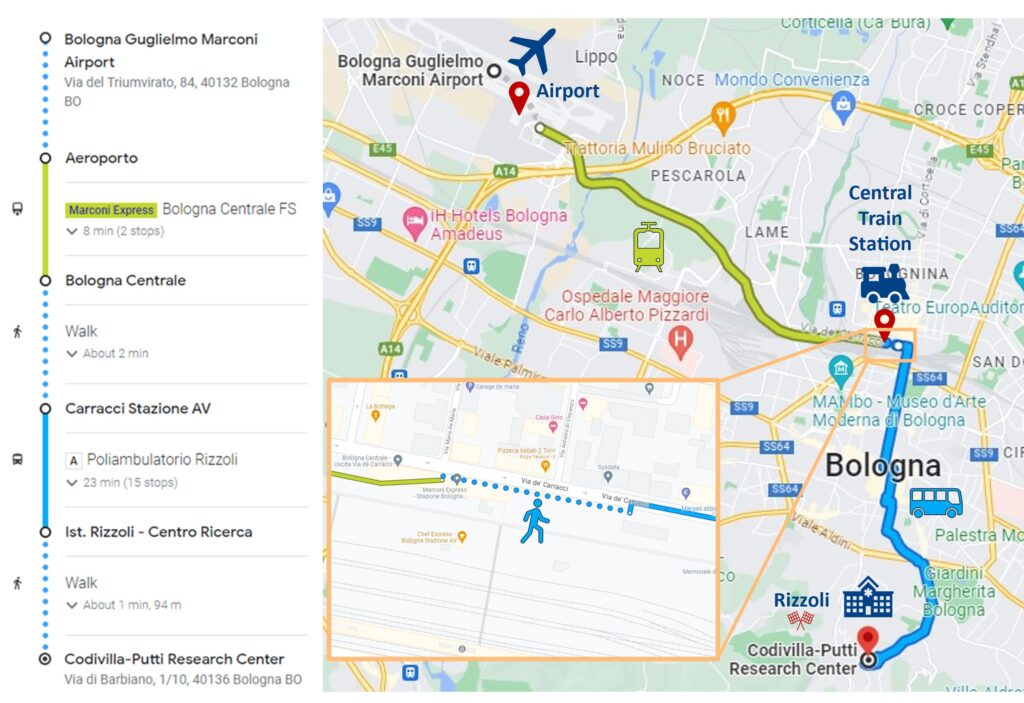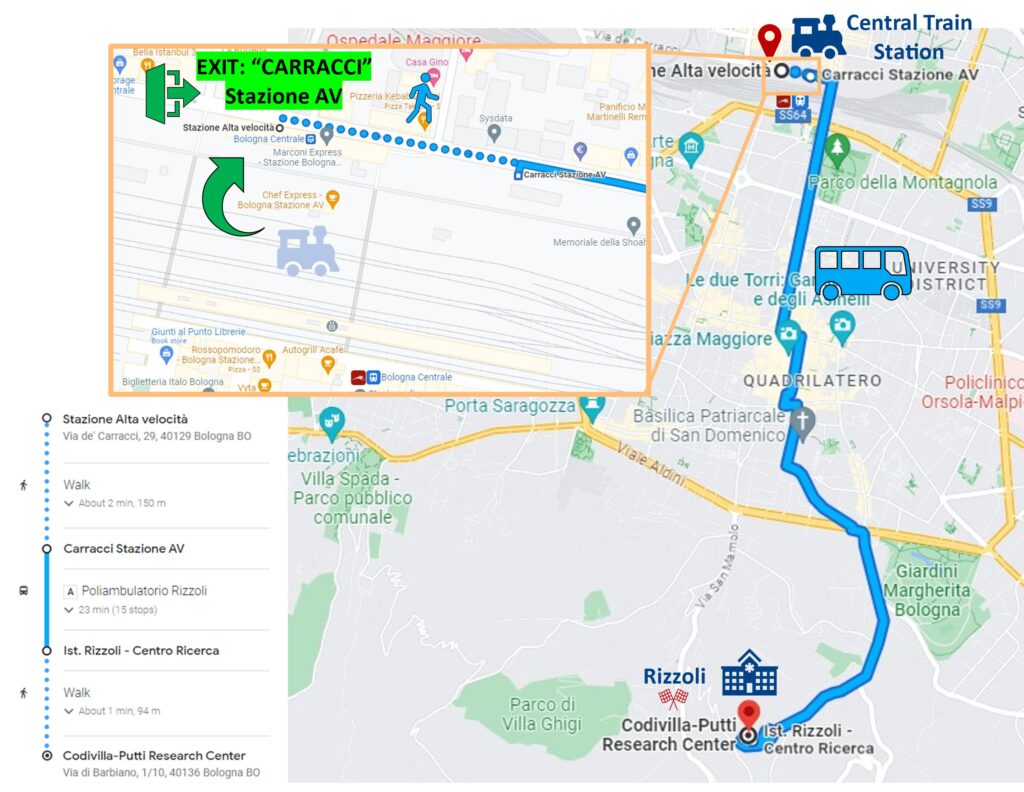 TPER BUS A:
https://www.tper.it/content/navetta-fioravanti-p-liber-paradisus-poliamb-rizzoli
The bus runs every 10-11 minutes (depending on the time slot) and takes about 23 minutes to make the journey station - Rizzoli (see timetable). It has an on-board ticket vending machine.
Google Maps indication:
https://goo.gl/maps/nujav6bfKZERrhks7
<iframe src="https://www.google.com/maps/embed?pb=!1m28!1m12!1m3!1d1422.7092245748606!2d11.342003266042896!3d44.50658171118754!2m3!1f0!2f0!3f0!3m2!1i1024!2i768!4f13.1!4m13!3e3!4m5!1s0x477fd49dd50d7aa9%3A0x8b959002b5638111!2sStazione%20Centrale%2C%20Via%20de'%20Carracci%2C%20Bologna%2C%20Metropolitan%20City%20of%20Bologna!3m2!1d44.5073383!2d11.342681599999999!4m5!1s0x477fd4debffb001d%3A0x2b5e45f36ab049be!2sCentro%20di%20ricerca%20Codivilla-Putti%2C%20Via%20di%20Barbiano%2C%201%2F10%2C%2040136%20Bologna%20BO!3m2!1d44.4756067!2d11.3404521!5e0!3m2!1sen!2sit!4v1685095968479!5m2!1sen!2sit" width="600" height="450" style="border:0;" allowfullscreen="" loading="lazy" referrerpolicy="no-referrer-when-downgrade"></iframe>
FROM PIAZZA MAGGIORE
From Piazza Maggiore it will be possible to take the TPER's dedicated BUS A.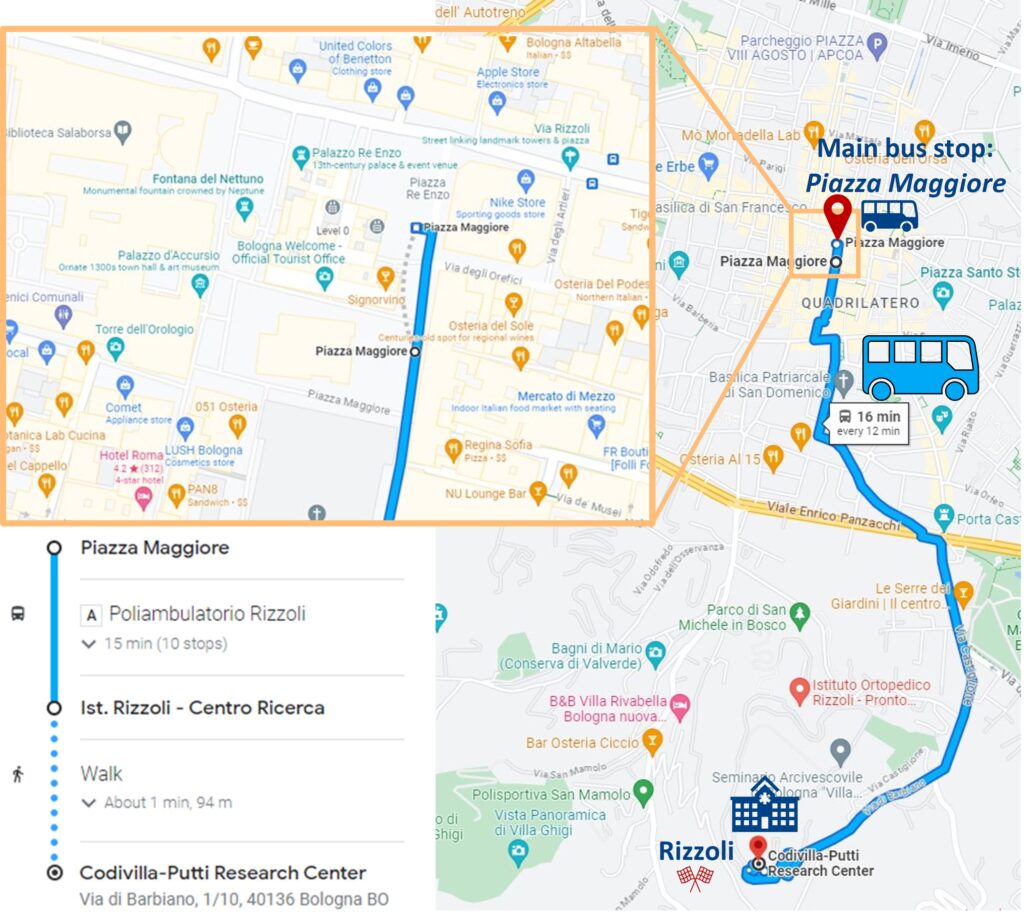 FROM AUTOSTAZIONE
From Autostazione it will be possible to take the TPER's dedicated BUS A.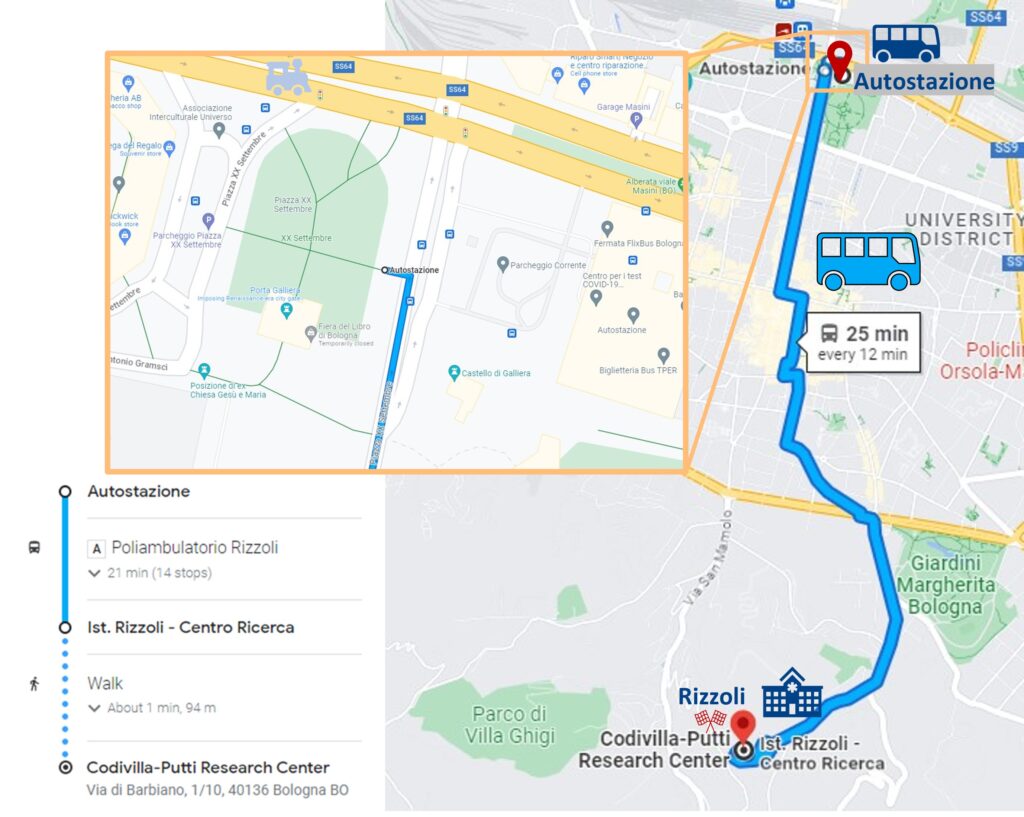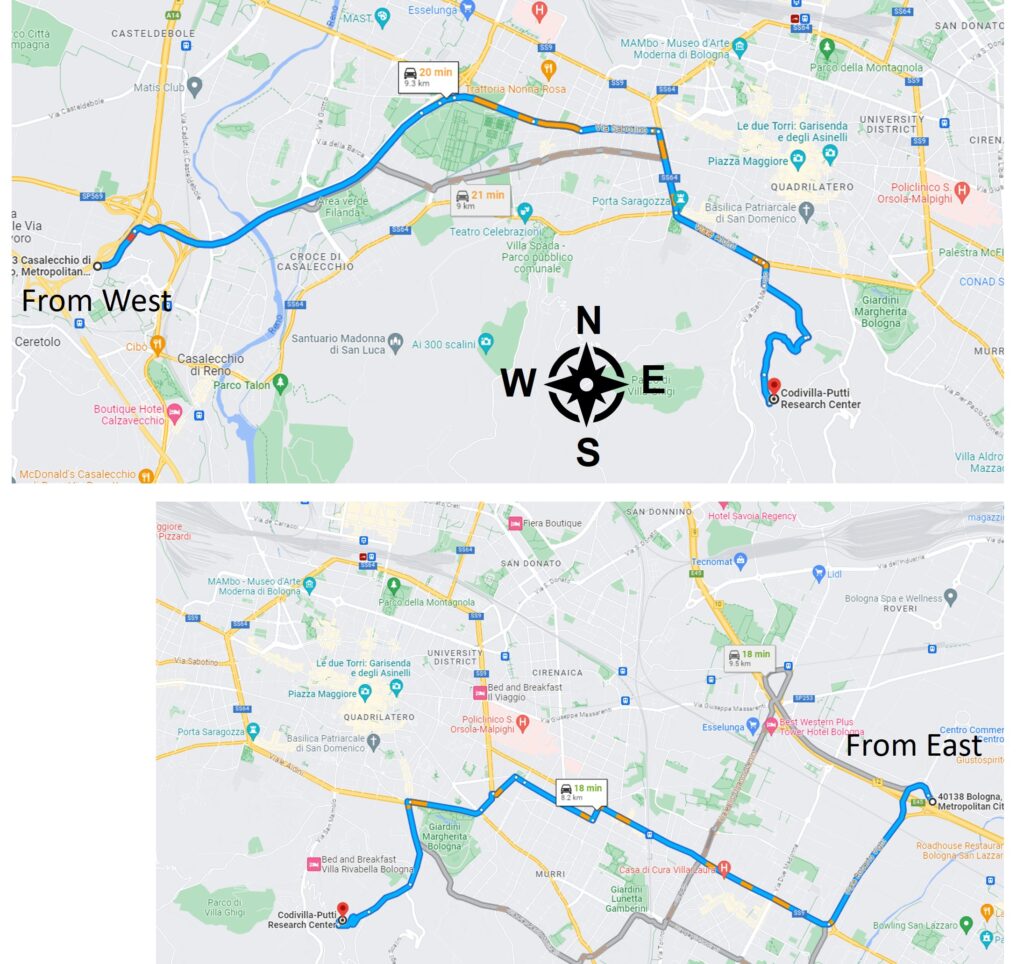 A paid parking lot is located at the Research Center, in the Polyclinic area. The parking lot A in front of the Outpatient Clinic; The fee is 1 euro per hour, for a maximum of 6 euros (with 6 euros, parking is allowed for the entire day).
Google Maps:
https://goo.gl/maps/sdqQf1AYLHdSLX367
We carefully select our suppliers, from hotels, transportation, restaurants, to tour guides.
Korilù eventi manages hotel reservations and allotments on major Hotels in Bologna. We provide quotes for pre-arranged groups for accommodation, guides, bus and car rental with driver.
Boutique Hotel Via dei Mattuiani 1/2 Bologna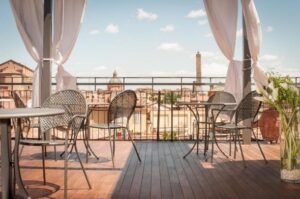 Hotel Touring is an elegant 4-star hotel in the center of Bologna. It is just a 5-minute walk from Piazza Maggiore and the Duse Theater, 100 meters from the Court of Bologna and the Court of Appeals, 2km from RIZZOLI Hospital and a few minutes walk from many stores and restaurants. Perfect for a weekend of culture and ideal for a romantic getaway. Private pay parking available for guests.
Hotel Touring has 30 rooms, 5 suites and one with a kitchenette, arranged on 4 floors and distinguished in: Classic, Urban and Gold. All rooms are equipped with every comfort: soundproof walls, air conditioning, WI-FI connection, LCD TV with international and digital satellite channels, safe deposit box, piped music. All hotel rooms are smoke-free: smoking is therefore prohibited in every room; please note that you can smoke freely on our terrace on the fifth floor.
The hotel was created in an 18th-century building whose rooms have custom sizes and where everything is tailor-made to make your experience unique. Hotel Touring has 30 rooms. Distinguished in: Classic, Urban and Gold. 2 suites including one with kitchen, 4 junior suites.  Televisions offer the ability to book services and room service from your mobile device by simply photographing a QR-code.
Breakfast:
Plain eggs, preferably organic, fresh organic fruit, milk and Maria's homemade cakes. Wide selection of products for celiacs. Well thought out, and with a varied selection of sweet and savory items, Hotel Touring Bologna allows you to compose your ideal breakfast with a twist: whether continental, American or typical Italian, our buffet will meet your needs. Breakfast can be served comfortably in your room, on your private terrace or garden, with an additional charge of €5, or in what we have romantically named the "Taverna delle Frati," because in the past the friars of San Propolo stored their wine and vinegar in our cellars.
Terrace:
Welcome to the fifth floor of Hotel Touring, at the Mattuiani Lounge Terrace .Are you looking for a unique and exclusive experience, our Hotel offers a beautiful terrace on the fifth floor with a breathtaking panoramic view. The Mattuiani Lounge terrace is an intimate space where you can enjoy the sunset with a view of the characteristic rooftops of Bologna.
A place where you can enjoy an incredible panoramic view of the historic center of Bologna. Ideal for an aperitif while admiring the sunset.
The swallows flying, the sky painting itself cobalt blue, the sound of two glasses toasting. This is the Mattuiani Terrace a place of slow vibrations and flavors. High up on the fifth floor to experience your time lightly.
Central, located 2 kms from RIZZOLI
Price per Doublesingle use superior room € 180,00 per room per night incl breakfast
supplement for the second person in the room € 50,00 per night incl breakfast
Hotel accomodation tax € 4.00 per day per person
Reservation by mail to Hotel
reference for booking: IPFRN
Hotel Roma Via Massimo D'Azeglio, 9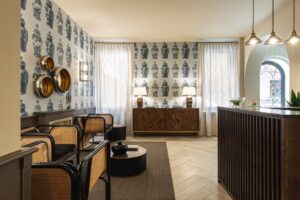 Historical reference point for Bolognese hospitality – it has been on the scene for over 130 years – the Hotel Roma is located in Via D'Azeglio, in the pedestrian area called the living room of Bologna, a few meters from Piazza Maggiore, where the most famous boutiques and the main cultural attractions are concentrated: in a few minutes walk under the "famous arcades"; you can easily reach the most important monuments of the city.
Ideal for those seeking tranquility, privacy and good food with a traditional bolognese menù in its own restauran also open to the public, in an elegant and comfortable context as a private residence, the hotel, in the historic center, has been a must of city hospitality for over a century.
The Hotel can also be reached by car despite the limited traffic area: the hotel will be responsible for transmitting the license plates of the cars to the relevant offices to allow access and the parking into the garage.
Central located 3 kms from Rizzoli
Price for double single use room from € 150,00 per room per night breakfast incl
Price for double room for 2 people from €180,00 per room per night breakfast incl
Hotel accomodation tax € 5.00 per day per person
For more information and reservations you can contact us at the following addresses, specifing the name of the congress:
+39 051 387615
E-mail: info@korilu.it